Culturally Responsive Teaching


Definition
Culturally responsive and sustaining teaching/pedagogies are frameworks that are student-centered and focus on the cultural experiences and 'ways of being' that students bring with them to the classroom in order to ensure that curriculum is inclusive and asset-based (Paris, 2012). Culturally responsive pedagogy (CRP) engages learners by identifying and nurturing their cultural strengths to promote achievement and a sense of well-being about their cultural place in society. Culturally sustaining pedagogy (CSP) sees the outcome of learning as additive rather than subtractive, and facilitates building upon the linguistic, cultural, familial and social capital of students (Yosso, 2005). Taken together, CRP and CSP frameworks disrupt deficit perspectives and engage students in learning by explicitly supporting aspects of their languages, literacies and cultural traditions (Ladson-Billings, 2014; Paris & Alim, 2017). Kieran and Anderson (2018) found that "When planned proactively, UDL with CRT, combine as part of the blueprint for increasing students' success in meeting teachers' high expectations for the intended learning outcomes" (p.12).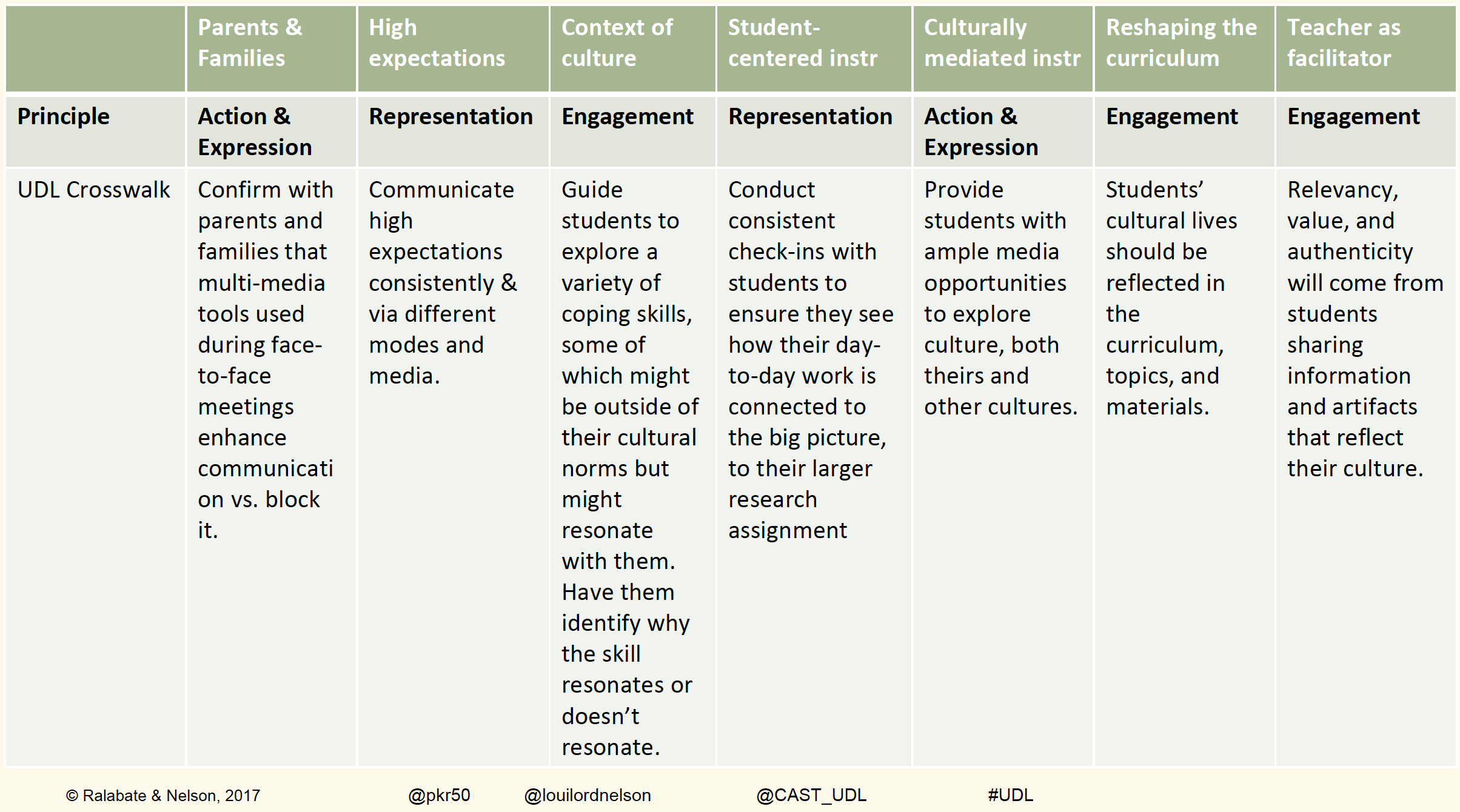 Additional Resources
Articles/Books

Ford, B., Stuart, D., & Vakil, S. (2014). Culturally Responsive Teaching in the 21st Century Inclusive Classroom. Journal of the International Association of Special Education, 15(2), 56-62.
Gillborn, D. (2015). Intersectionality, Critical Race Theory, and the primacy of racism: Race, class, gender and disability in education. Qualitative Inquiry, 21(3), 277-287.
Emdin, C. (2017). For White folks who teach in the hood... and the test of y'all too: Reality Pedagogy and Urban Education. Boston, MA: Beacon Press.

Gay, G. (2002) Culturally responsive teaching in special education for ethnically diverse students: Setting the stage, International Journal of Qualitative Studies in Education, 15:6, 613-629, DOI: 10.1080/0951839022000014349

Kieran, L., & Anderson, C. (2018). Connecting Universal Design for Learning with Culturally Responsive Teaching. Education and Urban Society, 1-15.

Klingner, J. K., Artiles, A. J., Kozleski, E., Harry, B., Zion, S., Tate, W., Durán, G. Z., & Riley, D. (2005). Addressing the disproportionate representation of culturally and linguistically diverse students in special education through culturally responsive educational systems. Education Policy Analysis Archives, 13(38).
Ladson-Billings, G. (2014). Culturally relevant pedagogy 2.0: a.k.a. the remix. Harvard Educational Review 84(1), pp. 74-84.
Liasidou, A. (2012.) Inclusive education and critical pedagogy at the intersections of disability, race, gender, and class. Journal for Critical Education Policies Studies, 10, 168-184.

McKamey, P. ( June 17,2020). What anti-racist teachers do differently?

Paris, D. (2012). Culturally sustaining pedagogy: A needed change in stance, terminology, and practice. Educational Researcher 41(3), pp 93-97.

Paris, D. & Alim, H.S. (2017). Culturally sustaining pedagogies: Teaching and learning for justice in a changing world. NY: Teachers College Press.

Pearson, M. (2015). Modeling Universal Design for Learning Techniques to support multicultural education for pre-service secondary educators, Multicultural Education, 27-34.

Polluck, M. (2017). Schooltalk: Rethinking what we say about and to students every day. New York, NY: The New Press.

Ralabate, P. & Nelson, L. (2017). Culturally responsive design for English Learners: The UDL approach. CAST Professional Publishing: Wakefield, MA.

Tatum, B. D. (2017). Why are all the black kids sitting together in the cafeteria? And other conversations about race. New York, NY: Basic Books.

websites