Inclusive Mathematics Practices

Definition
California Common Core State Standards (CaCCSS) are organized by mathematical practice standards (all grade levels) and content standards at each grade level. They are organized in Domains – Clusters – Standards.

"The standards call for learning mathematical content in the context of real-world situations, using mathematics to solve problems, and developing "habits of mind" that foster mastery of mathematics content as well as mathematical understanding. The standards for kindergarten through grade 8 prepare students for higher mathematics. The standards for higher mathematics reflect the knowledge and skills that are necessary to prepare students for college and careers and productive citizenship" (M. Kirst, 2013).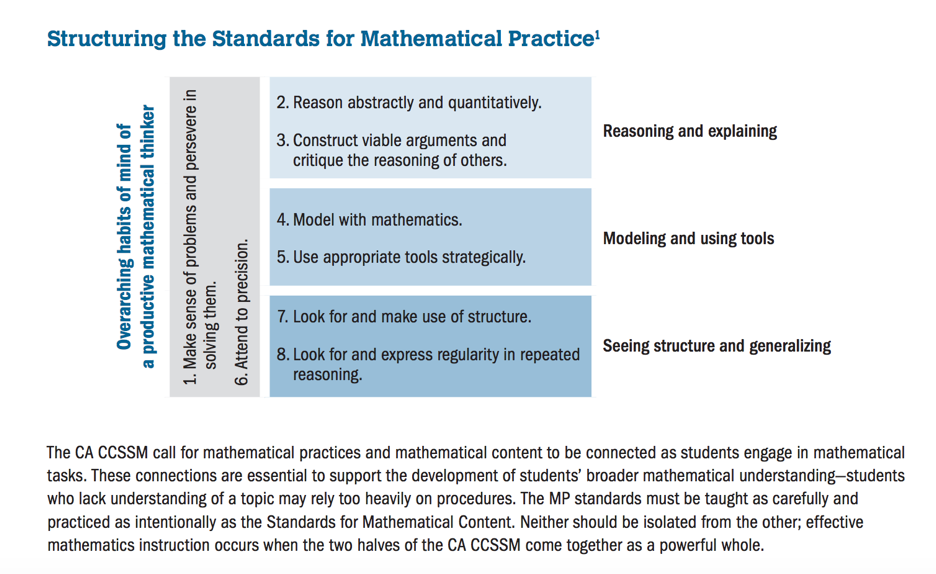 California Common Core State Standards: Mathematics. (2013). p. 3
In order to develop these "habits of the mind" for all students, inclusive practices must be incorporated into mathematics' instruction. This section of this website will showcase practices that teacher educators can use to help their candidates support all students in mathematical understanding.
Make sense of the problem


Four Square graphic organizer (form on a dry erase)

Use concrete objects

Draw the objects to solve the problem


Reason abstractly (Abstract ideas are often invisible, complex and subjective, as compared with concrete ideas that are usually visible and objective)


Move from concrete to abstract

Use visuals

Emphasize student life experiences


Construct viable arguments and critique other's reasoning


Allow them in a variety of forms (oral, drawing,…)

Use sentence frames

Strategically assign pairs or groups for critiquing


Model with mathematics


'Relatable' real-world application

Review critical vocabulary


Use appropriate tools strategically


Allow for a large variety of tools (do not designate just one tool)

Allow for a move from concrete tools to abstract

Color-coding


Attend to precision


Teach vocabulary

Create active word wall

Use error analysis to target your teaching

Color code symbols and then fade use


Look for and make use of structure


KWL chart

Visuals for patterns

Graphic organizer for value structure

Graph paper for representation


Look for and express regularity of repeated reasoning


Play games with patterns

Explore repetition through movement; jump, clap, stomp

Other important inclusive practices include;

Allow for student voice to demonstrate thinking

Value perspectives

Let students create connections; reinforce them
Help students create their own math identity

Use problem-based learning/project-based learning

MTSS Math
Using the MTSS Framework in mathematics: Some schools have been using multi-tiered systems of support in mathematics.
MTSS/RTI Glossary of Terms
Response to Intervention in Math

California Dept of Education Mathematics Framework has a Universal Access chapter
Overview of Tiered Supports: Continuum of Support
Tier 1/Universal Supports: Tier 1 or Universal Supports for mathematics instruction is considered to be the core curriculum, instruction aligned to the CCSS. Tier 1 includes lessons designed using the UDL framework and instruction differentiated for all students in the class. For EL/EB this also includes ELD and any language supports needed to access the curriculum, Specially Designed Academic Instruction in English (SDAIE), Sheltered Instruction Observation Protocol (SIOP), Culturally Responsive Teaching (CRT)... For students with disabilities this includes any modifications or accommodations needed to access the curriculum. Tier 1 also involves universal screening of students to determine which students need additional, Tier 2 or Tier 3, supports.
Tier 2/Supplemental or Strategic Supports: Tier 2 also called strategic or supplemental supports are considered to be additional supports in mathematics. Tier 2 typically involves small group intervention for students for whom Tier 1 is not enough. This intervention is targeted and focuses on key mathematics skills and typically could be separate interventions for computation and reasoning. Students are assessed at least monthly on skills being taught to determine progress and adjustments are made to intervention based on these assessments.
Tier 3/Intensive Supports: Tier 3 also called intensive supports is intensive intervention that is constantly informed by data. We use the model from the National Center on Intensive Intervention, data-based individualization. This process is guided by ongoing data that is collected weekly to inform and adapt the intervention. Interventions are validated by research and typically focused on only a one or two skills in order to intensify the intervention effectively.
Instructional Cycle
The practices in this section are guided by the Inclusive Practices Teaching Cycle.
High Leverage Practices (HLP)
HLPs in Instruction (CEEDAR)
HLP11 Identify and prioritize long- and short-term goals
HLP13 Adapt curriculum tasks and materials for specific learning goals
HLP14 Teach cognitive and metacognitive strategies to support learning and independence
HLP15 Provide scaffolded supports
HLP17 Use flexible grouping
HLP19 Use assistive and instructional strategies
HLP20 Provide intensive Instruction
HLP21 Teach students to maintain and generalize new learning across time and settings
HLP22 Provide positive and constructive feedback to guide students' learning and behavior
Mathematics includes a conceptual understanding of key math concepts, procedural skills and fluency (calculation), and application or use of math in a situation that requires math knowledge.

Assessment

Assignment/Activities
Lesson Plan Supports
A powerpoint of the UDL model lesson demonstration of an elementary mathematics lesson with UDL principles is linked below. This was utilized in a university course team taught (district/university) at a residency site.
Lesson plan with UDL supports during planning used during teacher preparation.

Model of a Lesson Plan for Math

Lesson Plan with UDL Assignment for Teacher Preparation Course. Candidates can design a lesson or upload and augment a required curriculum such as GO!Math!.

Ask students to be responsible for one step – prep ahead.

Choice Boards

Make a TIC-TAC-TOE Activity Sheet
Review the website links to see samples of Tic-Tac-Toe activity sheets teachers have made for their students.

Differentiated Instruction with Think-tac-toe
Choice Boards, Menus and Tic-tac-toe

Tic-tac-toe Menu Boards


Using the TIC-TAC-TOE template, choose a topic, specify the grade level, and fill in with activities that students could choose from and complete to demonstrate their knowledge. Activities should allow for a variety of learning styles and preferences

Tic-tac-toe template
Choose 2 number cards and make a 6-digit number with them. Using number words, word process the number you created using the word bank provided.
Choose 2 number cards and make a 6-digit number with them Explain the value of each number.

Choose 3 number cards and make a number less than 400,000,000. If you can't do it with the three cards you drew, choose another.

Choose 2 number cards and make a 6-digit number with them. Using number words, write out the number you created.

Choose 3 number cards. Make a 9-digit number. Tell the value of each 3 in the number you created.

Choose 2 number cards and use the egg carton to place the numbers in that match their place value. Tell your partner the value of each.

Choose 3 cards and make a 9-digit number with them. Using number words, write out the number you created.

Choose 2 number cards and make the largest 6-digit number you can with those cards.

Choose 2 number cards. Make a 6-digit number and write the number in expanded form.

Math Handout with UDL
Reaching and teaching All math students 12 page handout Scott Marfilius (2010)

To support inclusive education teachers must determine strategies to:
Help with the recall of mathematical facts/fluency, to support learning for difficulties with long- or short-term memory

Multi-sensory practice
Fact sheets
Calculators

Help with the interpretation of data represented in graphs, tables or charts, to compensate for difficulties with visual discrimination

Color coding graphs
Use of colored pencils or ink
Use visual patterns for problem solving

Allow access to tactile and other equipment for work on shape, space and measures, to overcome difficulties with sight or in managing visual information

Developing 3-D models of math data/equation amounts
Auditory sharing of each step of the problem

Help with interpreting or responding to oral directions, to compensate for difficulties with hearing or in auditory processing

Sentence frames
All questions posted visually and said auditorily
Wait time for processing
Use of white boards + so students do not blurt answers

Allow assignments/problems designed to have smaller steps, which hold students into the content and pace of the lesson

Teach to question mid-problem
Grade each step in problem solving (not just the final answer)
Ask students to be responsible for one step – prep ahead
NCSC Math High School Mathematics – Measurement Lesson

Additional Resources
Articles
Carnell, L., & Tillery, M. (2005). Preparing preservice teachers for inclusive coteaching: A new approach for mathematics methods instruction. Teaching Children Mathematics. 11(7)
Hott, B., Isbell, L., & MOntani, T.O. (2014). Strategies and interventions to support students with mathematics disability. Council for Learning Disabilities, 1-9.
Powell, S., & Fuchs, L. (2018). Effective word-problem instruction: Using schemas to facilitate mathematics reasoning. Exceptional Children. 51(1), 31-42.
Small, M., & Lin, A. (2010). More good questions: Great ways to differentiate secondary math instruction. NCTM Store, Reston, Virginia.
Tan, P., & Thorius, K.K. (2018). En/countering inclusive mathematics education: A case of professional learning. Mathematics Teacher Education. 6(2)
Tan, P. (2017). Advancing inclusive mathematics education: Strategies and resources for effective IEP practices. International Journal of Whole Schooling, 13(3), 28-38.
White, D., DuCloux, K., Carreras-Jusino, A., Gonzlalez, D., & Keels, K. (2016). Preparing preservice teachers for diverse mathematics classrooms through a cultural awareness unit. Mathematics Teacher Educator. 4(2)
Weisenburgh-Snyder, A., Malmquist, S., Robbins, J., & Lipshin A. (2015). A model of MTSS: Integrating precision teaching of Mathematics and a multi-level assessment system in a generative classroom. Learning Disabilities: A Contemporary Journal, 13(1), 21-41.

Witzel, B., & Allsopp, D. (2007). Dynamic concrete instruction in an inclusive classroom. Mathematics Teaching in the Middle School. 13(4)
Videos/Modules