Multi-Tiered Systems of
Support/co-teaching

Definition
Multi-tiered Systems of Support
California's Multi-tiered Systems of Support (CA MTSS) framework provides the structure needed to achieve an inclusive, equitable, and positive learning environment for each and every child. CA MTSS focuses on aligning initiatives and resources using a wide range of research-based practices, including Universal Design for Learning. CA MTSS affords a full range of academic, behavioral, and social-emotional supports for all students to achieve. Using the framework allows the potential to create systematic change through intentional integration of services and supports to quickly identify and meet the needs of all students. CA MTSS involves families and community members as partners for meaningful involvement in a culturally responsive manner.

At CA MTSS's core is the emphasis of universal support (Tier 1) for all students and the recognition that some students may need supplemental support (Tier 2) at times, and a few students may require more intensive support (Tier 3). This website is structured to address Tier 1, 2 and 3 level inclusive activities. Tier 1 is for core instruction for all students in a general education classroom. All students receive effective, differentiated instruction provided by the classroom teacher using effective core curriculum and positive behavioral management strategies. Tier 2 is strategic support for those students, approximately 20%, who do not respond effectively to Tier 1 universal instruction supplements core instruction using targeted, evidence-based small-group interventions. Tier 3 involves the application of intensive, evidence-based interventions that are designed using data-based individualization for the approximately 5% of students who need very intensive academic and/or behavior supports.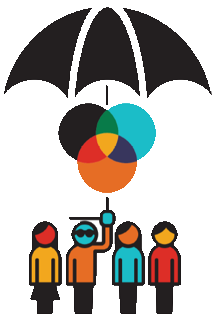 co-Teaching
Co-Teaching involves two educational professionals working together in a coordinated way that emphasizes collaboration and communication and shared responsibility for planning, instructing, and assessing students. The intent is to more effectively meet the academic/behavioral needs of a wide range of learners in heterogeneously grouped classroom environments (Friend & Cook, 1994). The six models of co-teaching are:

One Teaching, One Observing: One teacher is directly instructing students while the other observes students for evidence of learning.

One Teaching, One Assisting: One teacher is directly instructing students while the other assists individual students as needed.

Parallel Teaching: The class is divided into two groups and each teacher teaches the same information at the same time.

Station Teaching: Each teacher teaches a specific part of the content to different groups as they rotate between teachers.

Alternative Teaching: One teacher teaches the bulk of the students, and the other teaches a small group based on need.

Team Teaching: Both teachers are directly instructing students at the same time—sometimes called "tag team teaching."



Additional Resources
Articles & Books
Blackburn, B. & Witzel, B. (2018). Rigor in the RTI and MTSS classroom: Practical tools and strategies. Routledge: New York.

Hannigan, J. (2020). The MTSS start-up guide: Ensuring equity, access, and inclusivity for ALL students. Corwin Press: Thousand Oaks, CA.

Sailor, W. (2015). Advances in schoolwide inclusive school reform. Remedial and Special Education, 36(2), 94-99.

Sailor, W., Skirtic, T., Cohn, M., (2020). Preparing teacher educators for statewide scale-up of multi-tiered system of support (MTSS). Teacher Education and Special Education, DOI: 10.1177/0888406420938035

Scruggs, T., Mastropieri, M., & McDuffie, K. (2007). Co-teaching in the inclusive classroom: A metasynthesis of qualitative research. Exceptional Children, 73(4), 392-416.

Solone, C., Thornton, B., Chiappe, J., Perez, C., Rearick, M., and Falvey, M. (2020). Creating collaborative schools within the United States: A review of best practices. International Electronic Journal of Elementary Education, 12(3), 283-292.

Stein, E. (2016). Elevating Co-Teaching through UDL. CAST Professional Publishing: Wakefield, MA.

Villa, R., Thousand, J., Nevin, A. (2016). Guide to co-teaching: New lessons and strategies to facilitate student learning. Corwin Press: Thousand Oaks, CA.

Witzel, B., & Clarke, B. (2015). Focus on inclusive education: Benefits of using a multi-tiered system of supports to improve inclusive practices. Childhood Education, 91(3), 215-219.

Videos

Websites