Positive Behavioral Interventions and Supports

Definition
Positive Behavioral Interventions and Supports (PBIS) is an evidence-based three-tiered framework for improving and integrating all of the data and systems of support to address student outcomes in academic, behavioral, and social domains. The overarching goal is to support all learners in inclusive environments by maximizing available expertise through professional collaborations among school personnel (Lane, Kalberg, & Menzies, 2009)
Three Tiers Of Support
PBIS is a multi-tiered framework. Each tier aligns to the type of support students need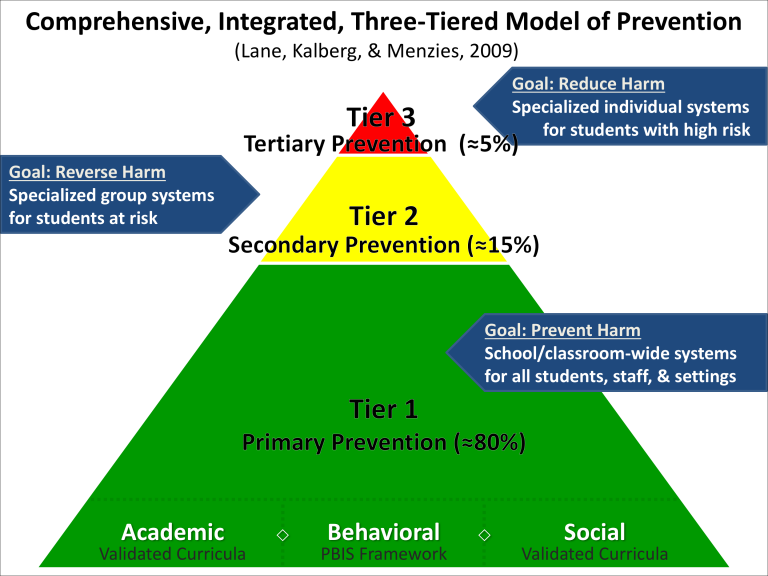 Comprehensive, Integrated, Three-Tiered Model of prevention
From: Lane, K.L., Kalberg, J.R., & Menzies, H.M. (2009). Developing schoolwide programs to prevent and manage problem behaviors: A step-by-step approach. NY: Guilford
Tier 1: Universal Prevention (All). Tier 1 systems, data, and practices impact everyone across all settings. They establish the foundation for delivering regular, proactive support and preventing unwanted behaviors. Tier 1 emphasizes prosocial skills and expectations by teaching and acknowledging appropriate student behavior.

Tier 1 practices include:

School-wide positive expectations and behaviors are taught and retaught to all students (i.e., clear behavior expectations for common areas and activities)
Established classroom expectations aligned with school-wide expectations
A continuum of procedures for encouraging expected behavior
A continuum of procedures for discouraging problem behavior (i.e., clearly defined Office Discipline Referral procedures)
Procedures for encouraging school-family partnership
Tier 1: Universal Supports Resources
Tier 2: Targeted Prevention (Some). Tier 2 systems, data, and practices provide targeted support for students who are not responsive to Tier 1 primary supports. The focus is on supporting students who are at risk for developing more serious problem behavior before those behaviors start. Tier 2 supports often involve more focused and intensive small group interventions with 10 or more students participating.
Tier 2 practices include:
Increased instruction and practice with self-regulation and social skills
Increased adult supervision
Increased opportunities for positive reinforcement
Increased pre-corrections
Increased focus on possible function of problem behaviors
Increased access to academic supports
Tier 3: Intensive, Individualized Prevention (Few). At most schools, there are 1-5% of students who are resistant to Tier 1 and Tier 2 prevention efforts. At Tier 3, these students receive more intensive, individualized support to improve their behavioral and academic outcomes. Tier 3 strategies work for students with developmental disabilities, autism, emotional and behavioral disorders, and students without an identified disability.
Tier 3 practices include:
Function-based assessments
Wraparound supports
Cultural and contextual fit
Tier 2 and Tier 3: Targeted and Intensive Support Resources

Iris Module – Tier 2 and Tier 3

PBIS in Practice. When schools implement PBIS, they:
Regularly check the effectiveness of their practices
Pull from a continuum of evidence-based interventions to support student needs
Develop content expertise through coaching and on-going professional development
Rely on teams to guide implementation
Use data to monitor student progress
Implement universal screening practices
Include community members and families to create culturally-relevant practices.
Assessment
Classroom Management Self-Assessment. Assessment to determine which effective general classroom management practices are in place and general classroom climate
The Systematic Screening For Behavior Disorders (SSBD; Walker, Severson, & Feil, 2014) 2nd edition is validated for grades PK-9 and a widely used multi-gated universal screening tool designed to find students who have either internalizing or externalizing patterns of behavior. Many consider the SSBD to be the "gold standard" in screening. This teacher completed tool has three stages: (1) nomination and rank ordering, (2) behavior scales, and (3 optional for universal screening purposes) the School Archival Records Search (SARS) and direct observations of student behavior (classroom and playground). With the updated 2014 2nd edition, screening with the SSBD is available online or in a paper format. Screening a class of students takes less than one hour to complete. In stage one, the classroom teacher considers all students' behavior patterns using the descriptions of internalizing and externalizing behavior dimensions, selecting the three students with behaviors most like each description. These six students (three for externalizing and three for internalizing) pass through Gate 1 on to stage two. In stage two, the six students are then rated by the teacher on behavior scales: Critical Events Index and Combined Frequency Index of Adaptive and Maladaptive Behavior. Students who exceed normative criteria on these two indices pass through Gate 2 on to stage three. In stage 3, a trained professional directly observes students in an instructional setting (academic engaged time) and on the playground (positive social behavior). The preschool scales (Early Screening Project, ESP) vary slightly in terms of behavior scales and observation setting.
Systematic Screening For Behavior Disorders (SSBD) resources


Assignment/Activities
Tier 1 Activities
Universal Support Assignment (Word Doc)
Classroom Management Plan (CMP) (Word Doc)
Tier 2 and Tier 3 Activities
Behavior Change Project (Word Doc)
Schoolwide PBS Project (Word Doc)

Additional Resources
Article/Books
Hannigan, J., & Hauser, L.A. (2015). The PBIS tier one handbook: A practical approach to implementing the Champion Model (1st Edition ). Thousand Oaks, CA: Corwin

Hannigan, J. & Hannigan, J.E. (2017). Don′t suspend me!: An alternative discipline toolkit (First Edition ). Thousand Oaks, CA: Corwin.

Hannigan, J.E., & Hannigan, J. (2018). The PBIS tier two handbook: A practical approach to implementing targeted interventions (NULL) (1st Edition). Thousand Oaks, CA: Corwin

Hannigan, J. E. & Hannigan, J. (2018). The PBIS tier three handbook: A practical guide to implementing individualized interventions (NULL) (1st Edition). Thousand Oaks, CA: Corwin.

Hannigan, J. & Hannigan, J.E. (2020). Building behavior: The educator′s guide to evidence-based initiatives (1st Edition). Thousand Oaks, CA: Corwin.

Lane, K.L., Menzies, H.M., Ennis, R.P., & Oakes, W.P. (2015). Supporting behavior for school success: A step-by-step guide to key strategies. Guilford Press.

Lane, K.L., Menzies, H.M., Bruhn, A.L. & Crnobori, M. (2010). Managing challenging behaviors in schools: Research-based strategies that work. Guilford Press.

Walker, J.D. & Barry, C. (2017). Improving outcomes of behavioral intervention plans. Intervention in School and Clinic, 53(1) 12 –18.

Videos and PowerPoints
CAHELP Video – Behavior intervention Plan Level 1 - The BIP Level I training will provide participants with a brief introduction and discussion on when and how to complete and implement BIP Level I. Participants will learn to identify the antecedents and consequences of a behavior to implement appropriate environmental strategies, develop behavioral goals based on the function of a behavior and the functionally equivalent replacement behavior, and establish reinforcement, crisis, and communication procedures for maintaining the replacement behavior.

Functional Assessment-Based Interventions (FABI; Umbreit, Ferro, Liaupsin & Lane, 2007): A systematic approach to coordinating the functional behavior assessment (FBA) and behavior intervention plan (BIP).

Websites
OSEP Technical Assistance Center on Positive Behavioral Interventions and Supports

US Department of Education: School Climate and Discipline

Positive Environments, Network of Trainers (PENT) - The California Department of Education, Diagnostic Center, Los Angeles. It is a California Positive Behavior Initiative designed to provide information and resources for educators striving to achieve high educational outcomes through the use of proactive positive strategies. Evidence-based positive practices and helpful information is disseminated statewide through this resource. California Department of Education - FAQs for Behavioral Intervention – LEA responses to frequently asked questions regarding students' behavior issues.