Teaching Performance Expectations


Definition
Teaching Performance Expectations

The California Teacher Performance Expectations (TPE) guide teacher education programs and provide a roadmap for what candidates need to know and be able to do to provide effective instruction. As the TPEs were developed so that all candidates earning initial credentials-Multiple Subject, Single Subject, and Education Specialist- have a set of shared expectations (a common trunk) and then branch off into their specialty areas.
The TPEs specifically address the expectations of the implementation of inclusive practices throughout the document. Below are examples of TPEs that have expectations that involve inclusive practices:

TPE 1.4
Use a variety of developmentally and ability-appropriate instructional strategies, resources, and assistive technology, including principles of Universal Design of Learning (UDL) and Multi-Tiered System of Supports (MTSS) to support access to the curriculum for a wide range of learners within the general education classroom and environment.
TPE 2.3
Establish, maintain, and monitor inclusive learning environments that are physically, mentally, intellectually, and emotionally healthy and safe to enable all students to learn, and recognize and appropriately address instances of intolerance and harassment among students, such as bullying, racism, and sexism.
TPE 3.6
Use and adapt resources, standards-aligned instructional materials, and a range of technology, including assistive technology, to facilitate students' equitable access to the curriculum.
TPE 4.4
Plan, design, implement and monitor instruction, making effective use of instructional time to maximize learning opportunities and provide access to the curriculum for all students by removing barriers and providing access through instructional strategies that include: • appropriate use of instructional technology, including assistive technology; • applying principles of UDL and MTSS; • use of developmentally, linguistically, and culturally appropriate learning activities, instructional materials, and resources for all students, including the full range of English learners; • appropriate modifications for students with disabilities in the general education classroom; • opportunities for students to support each other in learning; and • use of community resources and services as applicable.
TPE 5.8
Use assessment data, including information from students' Individual Education Plan (IEP), Individual Family Service Plan (IFSP), Individual Transition Plan (ITP) , and 504 plans, to establish learning goals and to plan, differentiate, make accommodations and/or modify instruction.
TPE 6.5
Demonstrate professional responsibility for all aspects of student learning and classroom management, including responsibility for the learning outcomes of all students, along with appropriate concerns and policies regarding the privacy, health, and safety of students and families.
High Leverage Practices (HLP)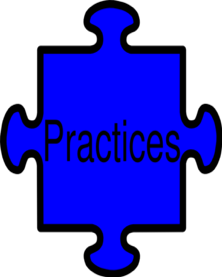 High Leverage Practices (HLPs) consist of the fundamental professional knowledge and skills needed for aspiring teachers when they enter the field (Ball & Forzani, 2011). HLPs, sometimes referred to simply as effective principles of instruction, were first developed by Ball and colleagues for teachers in general education to work with all students within math (and later all) content areas. More recently, the Council for Exceptional Children (CEC), in partnership with the Collaboration for Effective Educator Development, Accountability, and Reform (CEEDAR) Center, funded under the auspices of the Office of Special Education Programs, worked in concert to develop a set of fundamental HLPs to serve as the foundation for a practice-based approach to special education teacher preparation (Brownell et al., 2019). In both cases, specific criteria were used to carefully develop the sets of practices with the idea that they should to be relevant and important to the everyday work of teachers and to teacher education.
The table below shows the alignment of both the Teaching Works HLPs and CEEDAR/CEC HLPs and shows the link between the High Leverage Practices in General Education and Special Education. The table in High Leverage Practices in Special Education, Teaching Works HLPs, and California TPE Crosswalk shows the relationship among HLPs and the TPEs. These table may be useful to programs wanting to ensure that they have included all elements in their programs and also useful to programs as they work with partnering districts to show alignment of HLPs and TPEs in order to develop common language around these skills.
Alignment of High Leverage Practices

Alignment Of High Leverage Practices

| High Leverage Practice-Council for Exceptional Children/CEEDAR | High Leverage Practices-Teaching Works |
| --- | --- |
| Collaborate with professionals to increase student success | |
| Organize and facilitate effective meetings with professionals and families | |
| Collaborate with families to supports student learning and secure needed services | Talking about a student with parents and caregivers |
| Use multiple sources of information to develop a comprehensive understanding of students' strengths and needs | Selecting and designing formal assessments of student learning, checking for understanding during and at the conclusion of lessons; diagnosing common patterns of student thinking and development in a subject-matter domain |
| Interpret and communicate assessment information with stakeholders to collaboratively design and implement educational programs | Interpreting the results of student work, including routine assignments, quizzes, tests, projects and standardized assessments |
| Use student assessment data, analyze instructional practices and make necessary adjustments that improve student outcomes | Analyze instruction for the purpose of improving it |
| Establish a consistent organized and respectful learning environment | Building respectful relationships with students; implementing organizational routines; implementing norms and routines for classroom discourse and work |
| Provide positive and constructive feedback to guide student learning and behavior | Specifying and reinforcing productive student behavior |
| Teach social behaviors | |
| Conduct functional behavioral assessments to develop individual student behavior support plans | |
| Identify and prioritize long and short term learning goals | Setting long and short term learning goals for students |
| Systematically design instruction toward a specific learning goal | Designing single lessons and sequences of lessons; check for understanding during and at the conclusion of a lesson. |
| Adapt curriculum tasks and materials for specific learning goals | Coordinating and adjusting instruction during a lesson |
| Teach cognitive and metacognitive strategies to support learning and independence | |
| Provide scaffolded supports | |
| Use explicit instruction | Explaining and modeling content, practices, and strategies |
| Use flexible grouping | Setting up and managing small group work |
| Use strategies to promote active student engagement | Leading a group discussion, eliciting and interpreting individual student' thinking |
| Use assistive and instructional technologies | |
| Provide intensive instruction | |
| Teach students to maintain and generalize new learning | |
| Provide positive and constructive feedback to guide students' learning and behavior | Providing oral and written feedback to students |
| | Learning about students' cultural, religious, family, intellectual, and personal resources for use in instruction. |

Additional Resources
Articles/Books
Ball, D., & Forzani, F. (2010). Teaching skillful teaching. Educational Leadership, 68, 40-45.

Brownell, M., Benedict, A., Leko, M., Peyton, D., Pua, D., Richards-Tutor, C., McLeskey, J., Billingsley, B., & Maheady, L. (2019). Continuum of pedagogies for preparing teachers to use High Leverage Practices. Remedial and Special Education, 40(6), 338-355.

Capobianaco, B., DeLisi, J., & Radloff, J. (2018). Characterizing elementary teachers' enactment of high-leverage practices through engineering designed-based science instruction. Science Education, 102(2), 342-376.

Gallagher, M., Jensen, R., Annick, S, & Sue, J. (2019). Teaching prospective teachers to notice high leverage practices. Psychology of Mathematics & Education of North America, Conference Paper, 1295-1303.

McLeskey, J., Maheady, L., Billingsley, B., Brownell, M., & Lewis, T. (2019). High leverage practices for inclusive classrooms. Milton Park, Oxfordshire: Routledge.

O'Flaherty, J., & Beal, E. (2018). Core competencies and high leverage practices of the beginning teacher: A synthesis of the literature. Journal of Education for Teaching, 44(4), 461-478.

Ricconmini, P., Morano, S., & Hughes, C.(2017). Big ideas in special education: Specially designed instruction, high leverage practices, explicit instruction, and intensive instruction. Teaching Exceptional Children, 50(1), 20 – 27.

Wilburn, J., Polly, D., Franz, D., & Wagstaff, D. (2018). Mathematics teachers' implementation of high-leverage practices: A Q-sort study. School Science and Math, 118(6), 232-243.

Videos
High Leverage Practices in Special Education - Videos CEEDAR Center
High Leverage Instructional Practices - developed in a partnership of CEC, CEEDAR, GTLCenter, CCSSO, IRIS, and OSEP
Websites