Social-Emotional Learning (SEL)
Creating a Safe and Supportive Learning Environment

Definition
The California Department of Education (CDE) affirms Social-Emotional Learning (SEL) as an essential part of a well-rounded quality education. SEL is the process through which children and adults develop the ability to:

set and achieve positive goals

feel and show empathy for others

establish and maintain positive relationships

make responsible decisions

understand and manage emotions

Social-emotional skill development is critical to learning and life success – in the classroom, in the community, and in college and careers.

California Department of Education (CDE): California's Social and Emotional Learning Guiding Principles

CDE, among other education agencies across the country, is an active participant of the Collaborative for Academic, Social, and Emotional Learning (CASEL) which promotes making SEL central to the educational process. CDE's vision is for schools to support every child's unique journey to fulfill their potential by providing:

an equitable, culturally responsive education,

academic, social, and emotional learning, and

safe, engaging, inclusive environment.

Collaborative for Academic, Social, and Emotional Learning (CASEL)

The most effective SEL requires a strategic, systemic approach that involves everyone, from district and school leaders to community partners to family members, working together to ensure students receive the support they need. Successful SEL is not a stand-alone program or an add-on. It is central to how schools, communities, and families value and support the social, emotional, and academic development of their children.

CASEL identifies as the key to Social Emotional Learning, five Core Competencies:

Self-awareness: Know your strengths and limitations, with a well-grounded sense of confidence, optimism, and a "growth mindset."

Self-management: Effectively manage stress, control impulses, and motivate yourself to set and achieve goals.

Social awareness: Understand the perspectives of others and empathize with them, including those from diverse backgrounds and cultures.

Relationship skills: Communicate clearly, listen well, cooperate with others, resist inappropriate social pressure, negotiate conflict constructively, and seek and offer help when needed.

Responsible decision-making: Make constructive choices about personal behavior and social interactions based on ethical standards, safety, and social norms.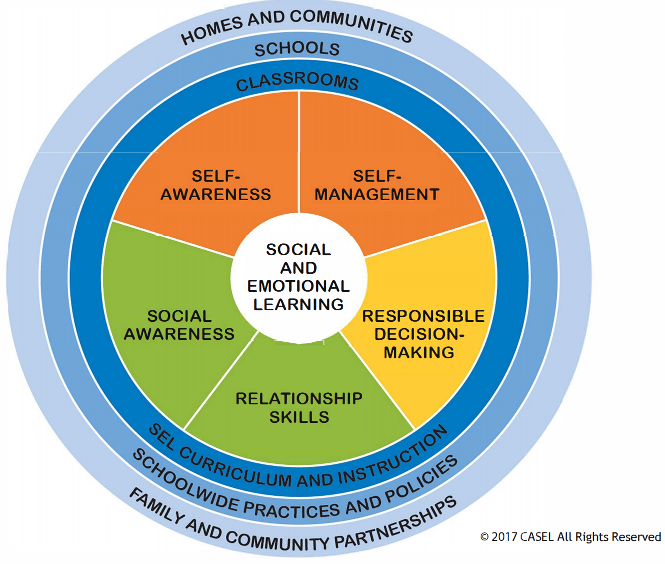 Teachers are creating classrooms where students are engaged, respected, and empowered and where they succeed academically. Key components of effective SEL implementation in schools include:

Instruction in and opportunities to practice and apply an integrated set of cognitive, affective, and behavioral skills.

Learning environments characterized by trust and respectful relationships.

Coordinated implementation that reinforces classroom, school-wide, out-of-school, and at-home learning activities.

Systematic and sequential programming from preschool through high school.

Developmentally and culturally appropriate behavioral supports.

Ongoing monitoring and evaluation of implementation for continuous improvement.

Assessment
Teacher-Self-Assessment of Classroom Environment
The Self-Assessing Social Emotional Instruction & Competencies Tool

Teachers who are socially and emotionally competent develop supportive relationships with students, create activities that build on the strengths of students, and help students develop the basic social and emotional skills necessary to participate in classrooms (Jennings & Greenberg, 2009). In a brief produced by the Center on Great Teachers and Leaders (GTL Center), titled Teaching the Whole Child: Instructional Practices That Support Social and Emotional Learning in Three Teacher Evaluation Frameworks, 10 teaching practices were identified that promote social, emotional, and academic skills. These 10 practices are further divided into two types of teaching approaches: those that focus on social teaching practices and those that focus on instructional teaching practices (see Figure 1). The GTL Center brief describes how all 10 of these practices can facilitate the development of student social, emotional, and academic skills.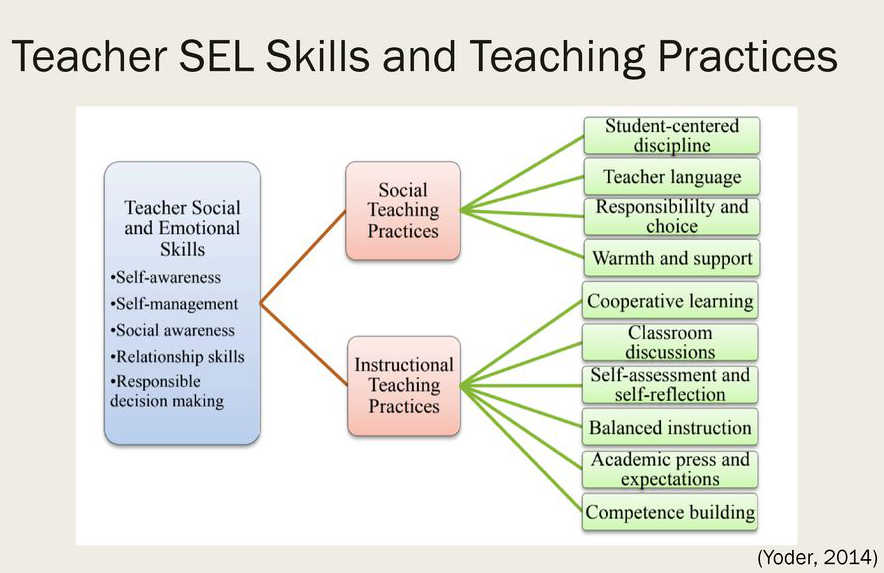 The Self-Assessing Social Emotional Instruction & Competencies tool developed by the GTL Center focuses on five teacher social and emotional competencies, including self-awareness, self-management/emotion regulation, social awareness, relationship/social skills, and responsible decision making.

Self-Assessment Instructions: Teacher candidates and interns complete one to four multiple-choice measures that assess their social-emotional teaching practices and competencies

Section 1 – Social Interactions (Teaching practices; Teacher competencies) – pages 4-7

Section 2 – Instructional Interactions (Teaching practices; Teacher competencies) pages 8-12

Tier 1, 2, 3 Restorative Justice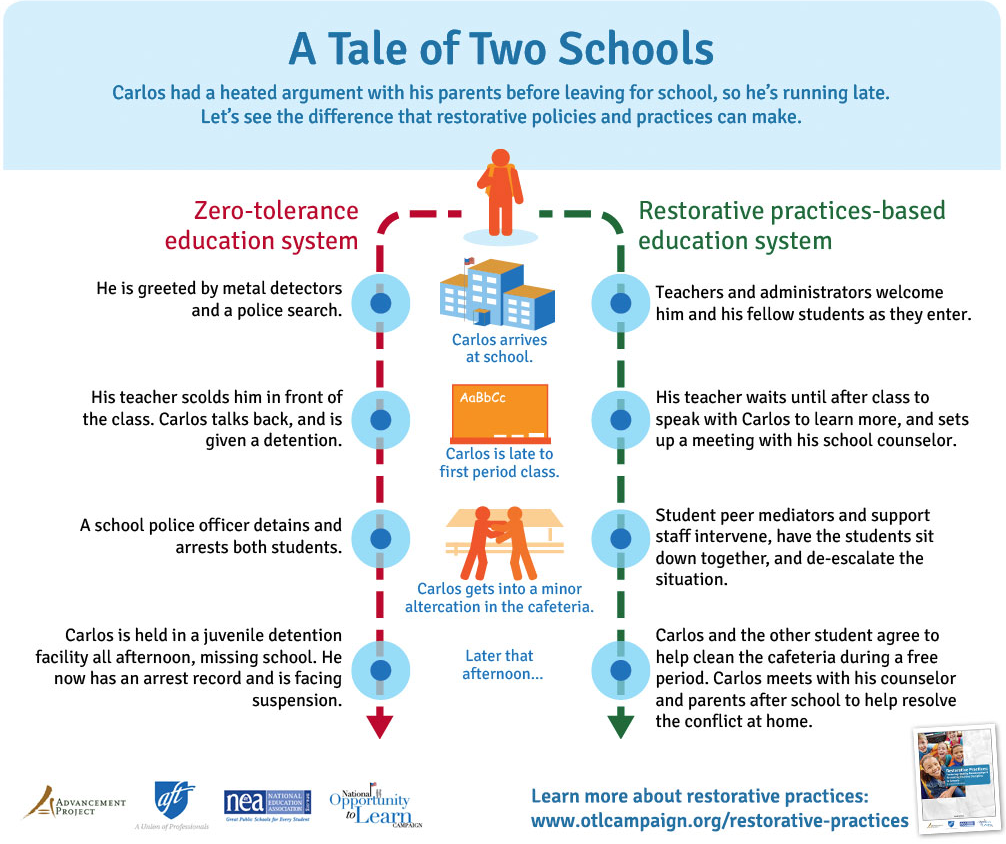 Restorative justice is a theory of justice that focuses on mediation and agreement rather than punishment. Restorative justice takes a different approach to school discipline. Rather than focusing on "fixing" the offender, it focuses on repairing the relationship between the victims and the perpetrators of a crime. In most disciplinary approaches, the victim was entirely left out of the process of justice. By actively involving the victim in the work of justice, this approach encourages the reparation of harm. (From: What Teachers Need to Know About Restorative Justice)

How does restorative justice work?

Restorative justice encourages the use of support systems — such as talking circles, peer juries and trusted adult counselors — to facilitate a conversation between victim and offender.

The goal is for the perpetrator to hear how their actions have affected the victim, from the victim's perspective. This approach humanizes both sides by giving students the chance to understand one another and learn to express their vulnerabilities. Further, it helps bring the perpetrator back into the school community, rather than further excluding them. It also asks the offender to find an appropriate way to make amends with the victim.

Guidebook from: Oakland Unified School District Restorative Justice Implementation Guide: A Whole School Approach


Assignment/Activities
Tier 1: Prevention Activities
Circles of Sharing to Build Community

The first tier is all about community-building as a preventive measure. Teachers or peer facilitators lead students in circles of sharing, where kids open up about their fears and goals. The circles are based on indigenous practices that value inclusiveness, respect, dealing with things as a community, and supporting healing. This is the foundation for restorative discipline. Students play an integral part in creating the climate of Tier 1. At the beginning of the year, they and their teacher create a classroom respect agreement, and all agree to be held accountable. The contract is an extremely effective way of maintaining harmony in the classroom.

Classroom circles build strong learning communities where everyone belongs, where everyone is seen, heard, understood and respected. Circles are used for building relationships, making agreements, problem-solving, discussing curriculum content, sharing perspectives, and resolving conflicts.

video Resources:
How to Conduct Responsive Circles:
Social Skills Role Play Cards
Objective: teachers organize student pairs or triads to motivate students to think about and discuss certain social skills and emotions

Role Play Cards Instructions: Print role play cards on card stock and cut them out. Distribute to students to work in pairs or triads to role play.

From: Hannigan, J.D. & Hauser, L. (2015). The PBIS Tier One Handbook: A Practical Approach to Implementing the Champion Model. Thousand Oaks, CA: Corwin Press, Inc.

Tier 2: Strategic Intervention

Tier II comes into play when students break rules and someone has caused harm to someone else. In traditional justice, this is when punishments are meted out. Restorative justice instead turns to mediation. The offending student is given the chance to come forward and make things right by meeting with the affected parties and a mediator, usually a teacher.

The mediator asks nonjudgmental, restorative questions like What happened? How did it happen? or What can we do to make it right? Through their discussions, all parties gain a better understanding about what happened, why it happened, and how the damage can be fixed. They talk about what can be done to repair the harm, come up with a plan, and fulfill that plan. It's all about relationships—building and repairing them.

Edutopia Video:

Tier 2 Activities:

Rupture – Repair: Resolving Student-Teacher Conflicts

Description: There are times when students get upset and teachers get frustrated and there is a rupture in the relationship. It is important to ensure that both the student and teacher have the support they need to first calm down after the conflict. Once everyone is calm, the teacher can initiate a conversation that allows the student to share their perspective, explain what they need, and understand the impact the incident/behavior had on others. Together, the student and teacher can then make an agreement for how they can repair their relationship and avoid the conflict in the future.

Handout:
Videos:

Mediation: Resolving Student Peer Conflicts

Description: When two students or a group of students are having a conflict, an effective approach is mediation. This is a process where a neutral facilitator (adult or peer) leads those in conflict through a process that results in an agreement. The process uses clarifying questions to identify needs and brainstorm options for mutual gain.

Handout:

From: Hannigan, J. E. & Hannigan, J.D. (2018). The PBIS Tier Three Handbook: A Practical Guide to Implementing Individualized Interventions. Thousand Oaks, CA: Corwin Press, Inc.

Tier 3: Intensive Intervention - Reintegration

Tier III aims to help kids who've been out of school for a while due to suspension, expulsion, incarceration, or truancy. Returning to school life can be a real challenge in those cases, and many students in traditional environments quickly re-offend or drop out again. Restorative justice practices seek to reduce recidivism by providing a "wraparound" supportive environment from the moment a student returns to school. It acknowledges the student's challenges while promoting accountability and achievement.

Tier 3 Activities:

Formal Restorative Conferences

Description: When behavior causes harm in our schools, a formal restorative conference empowers the people who were harmed by creating a safe space to share their experiences, ask questions, and identify what they need to feel whole again. For the person who caused harm, the process provides an opportunity to take accountability, understand the impact of their behavior, and create a plan to prevent future harm. This process can occur in lieu of other discipline, alongside other discipline, or upon re-entry to school after exclusionary discipline.

Handouts and Video:

Hannigan, J. E. & Hannigan, J.D. (2018). The PBIS Tier Three Handbook: A Practical Guide to Implementing Individualized Interventions. Thousand Oaks, CA: Corwin Press, Inc.


Additional Resources
Articles/Books
Cranston, A. (2019). Creating SEL environments. Huntington Beach, CA: Shell Education Publishers
Social-Emotional Learning in California: A Guide to Resources (CDE)
Offers research-based approaches and tools, toolkits and online resources aligned with SEL Guiding Principle(s) for implementation and continuous improvement processes in a variety of educational settings.